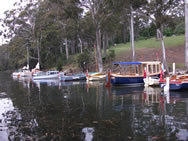 15, 16, 17 November 2013 will be our 8th Narooma Boats Afloat Festival. Set it aside!
2012 - huge success! 50 registered boats and quite a few unregistered ones!
Thank you to all involved - especially the people and boats who travelled from as far as Beaumaris in Vic to Lake Macquarie in the north and Glenbrook and Canberra in the west.
A few light showers during the weekend, and then 10 minutes after the finish... the heavens opened and the wind howled - a torrential downpour wrapped it all up!
Pics still coming in. - but check the slides from Narooma Newspaper HERE
QUICK SUMMARY OF 2012:
Friday night was slightly overcast as everyone gathered in Jim's shed for the welcome bbq, but the clouds didn't stop everyone having a great time re-establishing conacts and making new ones.
Saturday morning was slightly grey but off we all went to Paradise Point - perhaps 140 people and over 50 boats of all shapes and sizes. A great morning tea and then a cruise back to Forsters Bay. The sun came out for live Jazz on the water, a stickybeak at the boats and more good comradeship, with hundreds of the public visiting the marina.
Saturday night's Festival Dinner was a huge booked-out success, with 104 takers, we had to split the night and have 30 or so people in Tim's shed nextdoor to the Fishing Club. All joined together for Brian Craven in full flight as auctioneer for a great mix of locally-made wooden items such as boat hooks, tillers, grab rails , trays, cutting boards, wine racks with glasses. Many donated items were also auctioned such as an inscribed glass, wine and cheese, pennant poles, an art-deco pot and much more... all helping to defray costs - particularly insurance.
Sunday morning's Grand Parade with over 50 boats was a highlight... Down at the boardwalk hundreds - perhaps well over a 1000 - people lined the walk and the surrounding shoreline.
Followed by our traditional bbq on the wharf, raffle draw, "Best Boat" announced but the usual diehard cruise didn't eventuate due to the massive downpour.
Stan Gorton from the local Narooma News shot this video of the Grand Parade... it will give you an idea of the atmosphere...
We sincerely thank our 2012 sponsors...
Narooma Marina for use of their marina.
Jim Richards for use of his boatshed
Tim Short for use of Taylor's Slipway shed and wharf
John Sharpe for use of his wharf
Narooma IGA for donation of wine
NPWS Narooma for printer usage.
Laurelle Pacey – Pacey Media for use of map and donation of History book.
Brett Thompson Photography for discount on framed photo.
Heather and Jeremy Ferguson for Paradise Point morning teas.
Jim Taylor and Charlie Bettini for judging
Eurobodalla Tourism – donation and support.
Narooma Fishing Club for the dinner.
Narooma Lions for the BBQ on Sunday.
Narooma Meats for discounted bbq meats.
Narooma Fruit and Veg for the fruit tray for the raffle.
Tilba Sweet Spot for lolly vouchers for the raffle.
Kingfisher Marine for donation of raffle prize.
Second Time Round jazz band for Saturday music.
Special Thanks to:
Garry Ebbeling and Michael Keith. Libby Burbidge and helpers, for their excellent Saturday night Festival meal.
Especially all those who made items for the auction or raffle and all our and those who bought items and tickets, and all our helpers on the weekend.
Pics and videos still to come in. Meantime check out the picture and movie galleries to see the festival in action!