2014 – OUR 9TH FESTIVAL November 7, 8 and 9:

We will have pictures, videos and links coming up here soon, but meantime here's a quick summary:
Well it's over and what a beauty!
55 officially registered vessels from tiny sailboats and kayaks right up to 10m+ serious boats, and every sort of propulsion from sail and paddles, petrol Blaxland, Simplex and Stuart Turners to diesels and 3 (yes three) steam powered boats!
Boats came from as far as Latrobe Valley in Victoria and Smiths Lake in NSW and from all along the coast in between, as well as inland from the ACT and southern highlands.
And didn't Wagonga Inlet turn on the charm.. great weather, blue blue water and the crowds visiting Forsters Bay on Saturday then lining the shores, the bridge and the Mill Bay Boardwalk for the Grand Parade on Sunday!
Then there was the social side of things for the boaties…. the Friday BBQ; the Saturday morning tea picnic at Paradise Point; the Saturday evening dinner at "The Inlet" with delicious and copious food, and a great auction with the proceeds going to the Narooma Men's Shed; and finally the Festival Farewell BBQ with a delicious Garry Ebbeling lunch.
Whew!
The new-management at the Narooma Marina allowed 29 boats to be tied up for the appreciative public to come and see on Saturday afternoon. We had two sheds full of MACs art to check out and all topped off by 2 hours of jazz from "Jazzpack" – all for free! Fantastic!
The full thank you list is coming soon, but to all the boaties who travelled, and to all the local boats, to all the public who shared the weekend with us and to anyone involved it's a big THANK YOU from us at Narooma BoatsAfloat.
The Art in the Boatsheds Prize was split this year – half going for a photograph by Chris Perrott – "Still Water" and the other to a painting by Rona Walker "Reflections".
Raffle prizes went to: The "Tamar Lady" crew who chose the excellent Kingfisher Marine prize, Steve Barnes from MV Dael took the amazing Margaret Moran painting and Colin Mould from "Pueta" won the IGA wine.
Please visit our Thank You page to see the list of those who have sponsored us and helped us out.
Here's to the 10th Festival in 2015!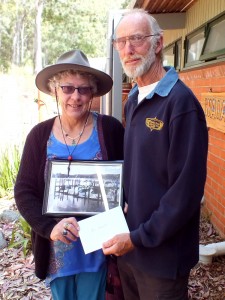 Boats Afloat President Smile Magill presents the 2014 Art in the Boat Sheds to joint winner MACs member Chris Perrott – absent is Rona Walker, the other winner.
President Smile Magill gratefully accepts artist Margaret Moran's donation of a painting for the 2014 Festival Raffle!!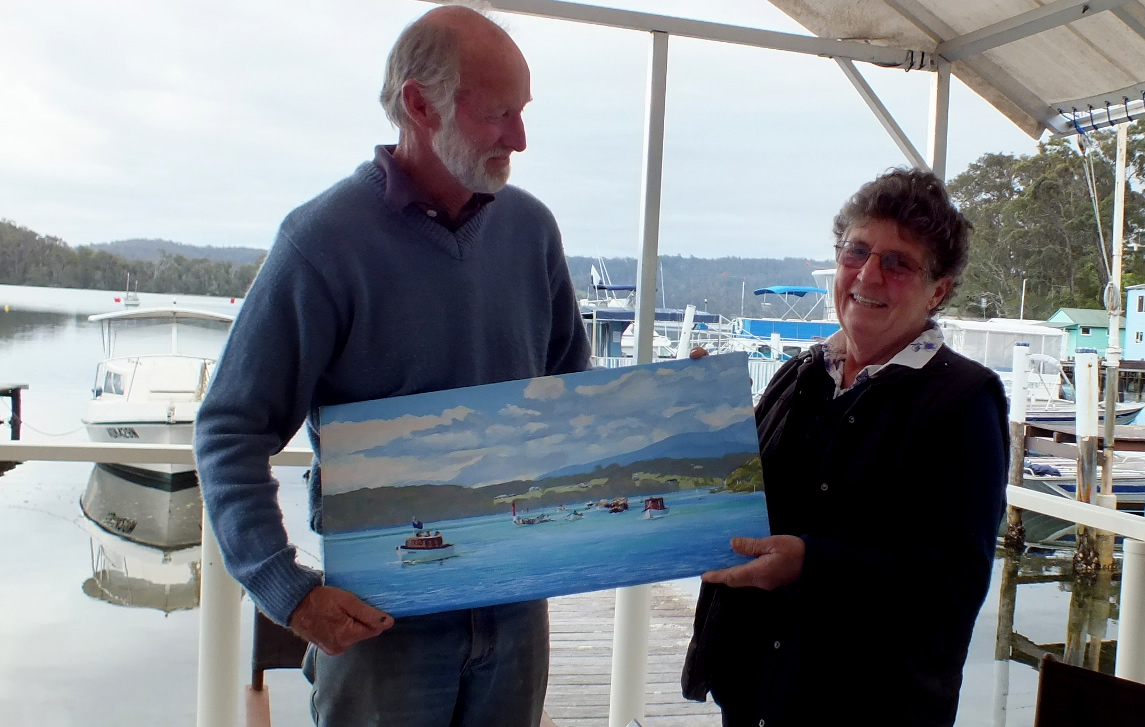 See more Margaret Moran boating theme paintings HERE