Set aside 11,12, 13 November 2016 for the 11th Festival!
NEWS – July 2016:
AGM held
The committee – President Graham Peachey, Vice President Stew Long, Treasurer Terry Cassels, Secretary Rick Leeds, Event Manager Garry Ebbeling held the AGM for Narooma Boats Afloat Inc, and presented the draft program for the 2016 Festival
Entry forms and details will be coming soon.
Quick Summary of the 10th Festival November 13,14,15 2015
53 boats registered and the rain and wind only made things more interesting, though we could do without them!
Friday bbq – big downpour just before it started but then a great sunset – well over 120 people made the most of the great atmosphere to open the Festival!
Saturday picnic cruise at our alternative landing site on Bob Wyldman's "Blackwood Park" beach near Pete's Point went well with 40 boats pulled up on the shingle or anchored off.
Saturday Afternoon Jazz and marina gathering – We've never seen a venue empty so fast! All the public and the boats were arriving and then the big black cloud opened up and the rain poured – but the band played on!

Saturday dinner and auction – great food, full house, plenty of good auction fun!
Sunday Grand Parade – windy but 38 boats made the trip and then a huge crowd at the bbq and farewell.
Congratulations to our 10th Festival Best Boat – "Time" from Lake Macquarie – owner/builder Kevin and Judy Neal.
Please visit our Thank You page to see the list of those who have sponsored us and helped us out.
Thanks to all and see you next year!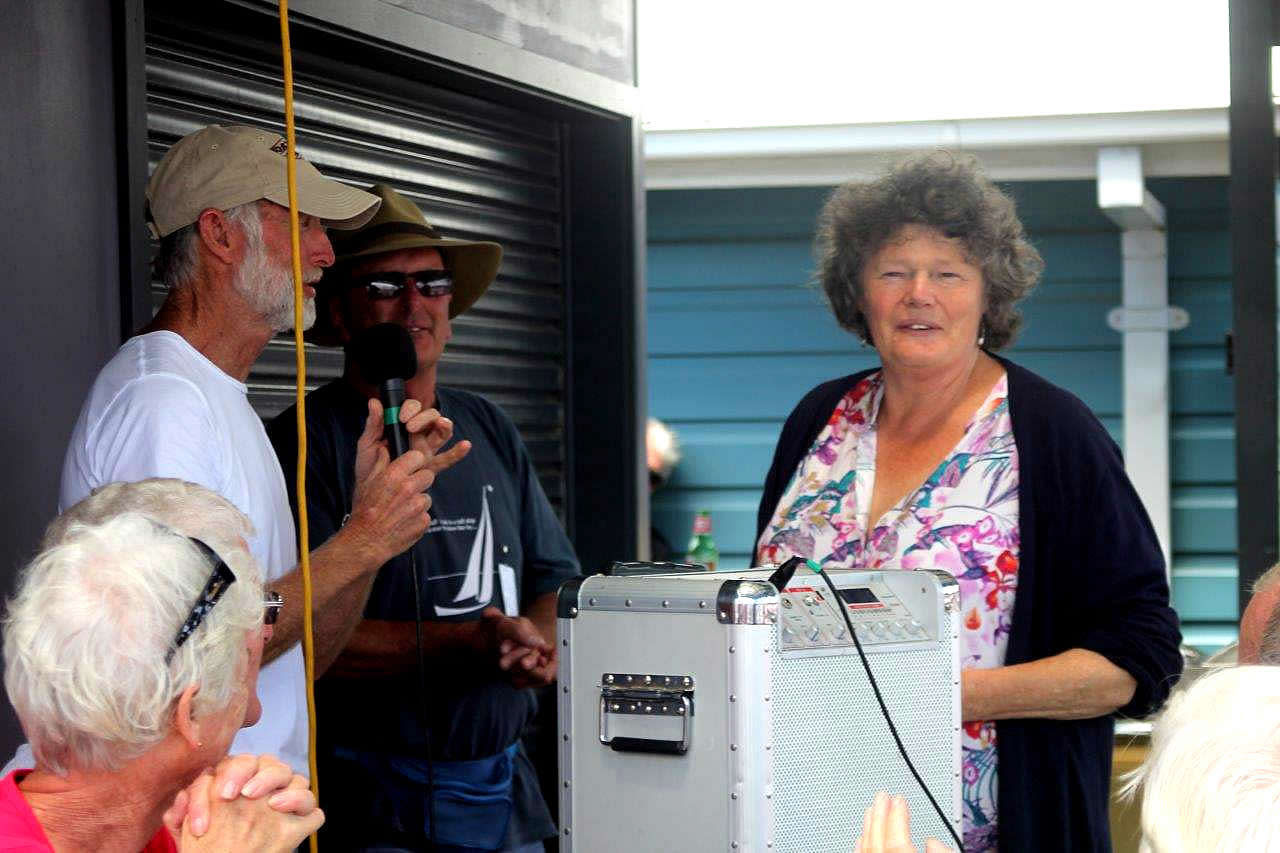 Boats Afloat President Smile Magill presents the 2015 Art in the Boat Sheds to winner MACS member Dorothy Noble. Rosy Williams pic.